Julien Tanguy, affectionately nick-named Père Tanguy, ran a paint supply shop in Paris, and Vincent van Gogh was one of his frequent customers and a loyal friend. Père Tanguy was a passionate supporter of the 'new painters' including the impressionists, exhibiting them and often accepting payment for supplies in paintings. In Loving Vincent, Tanguy's shop is Armand Roulin's first stop on his journey to discover the truth about Van Gogh.
'Do you know Tanguy? 14 rue Clauzel; an ugly-looking shop, and so small! Go in and you'll see treasures out of the Arabian Nights… This Père Tanguy, what an astute spotter of masterpieces! How good he's been at discovering today's unknowns, tomorrow's masters!… But let's go in with no more ado… Look, here are some incomparable marvels by Cézanne! Look, here are some canvases by Vincent, extraordinarily fiery, intense, sunny'
Art critic Albert Aurier in Le Moderniste Illustré, April 1889
Vincent painted three portraits of Père Tanguy. The second painting took a revolutionary new approach from his previous work, heavily influenced by Japanese prints, which had a profound affect on Vincent's attitude to framing and colour. This was one of the very first paintings that can be considered to be a transition from the experimentation of Vincent's Paris paintings into a distinctive and unique style of his own.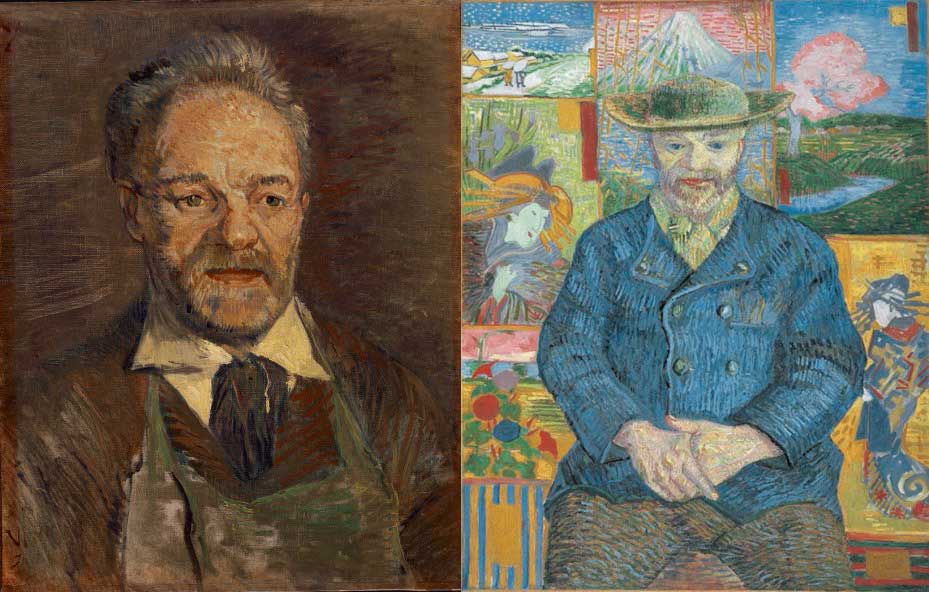 We chose this second portrait for the basis of our Père Tanguy character. It shows his stoicism, his cordial confidence, calmness and the goodness of his character. These traits were evident underneath his not so delicate features, his small eyes without any trace of malice, always full of emotion. Tanguy kept this portrait of himself all his life, and after his death the sculptor Auguste Rodin purchased it.

Actor John Sessions played Père Tanguy in our live action filming.