Dr Paul Gachet was passionately involved with the bohemian world of the impressionist artists of Paris. He was a physician to many painters including Cezanne, and became Van Gogh's doctor in Auvers-sur-oise after Vincent left the Saint Remy asylum, following a recommendation from Camille Pissarro to Vincent's brother Theo. Vincent lived in Auvers so he could be treated by Dr Gachet from May 1890 until his death in July that year. Actor Jerome Flynn starred as Dr Gachet in the reference material our painters used to create Loving Vincent.

Jerome Flynn during filming, Vincent's portrait of Dr Gachet and our keyframe combining the two.
Dr Gachet was an aspiring painter himself, and he and Vincent quickly became firm friends. Whilst Vincent was in Auvers, he painted fervently, creating a new canvas almost daily. He visited Dr Gachet regularly and painted his daughter Marguerite twice as well. Marguerite appears in Loving Vincent, played by Saoirse Ronan, and we also meet the Gachet's housekeeper, Louise Chevalier, played by Helen McCrory.
"I've found in Dr Gachet a ready-made friend and something like a new brother would be – so much do we resemble each other physically, and morally too. He's very nervous and very bizarre himself, and has rendered much friendship and many services to the artists of the new school, as much as was in his power. We were friends, so to speak, immediately, and I'll go and spend one or two days a week at his house working in his garden, of which I've already painted two studies."
Vincent in a letter to his sister Willemien, Auvers-sur-Oise, 5 June 1890
Vincent's painting of Dr Gachet with his iconic melancholy expression broke auction records when it went on sale in 1990, selling for $82.5 million. This painting remains in a private collection, but Vincent also produced a copy which is on display at the Musee D'Orsay. Gachet also had his own etching press and Vincent produced his only ever etching, Portrait of Dr Gachet with Pipe, during this period.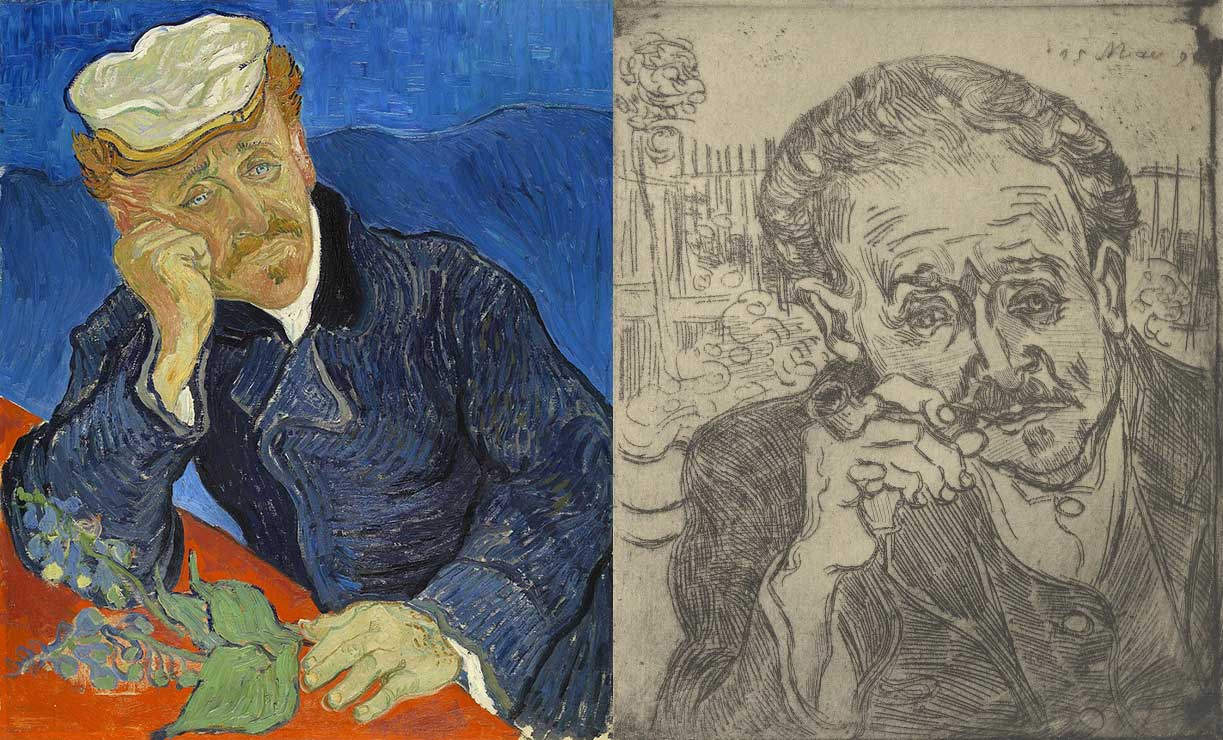 Van Gogh's second portrait and etching of Dr Gachet
After Vincent's death, Dr Gachet claimed many of Vincent's paintings as payment for the treatment he provided. Gachet spent the final years of his life imitating them, and aimed to write a biography of Vincent, although this never came to fruition.
In Loving Vincent the young Armand Roulin travels to Auvers to meet the mercurial Doctor and find out what he made of Vincent's sudden death. He also probes Gachet about the rumours of an argument between the two friends a few weeks beforehand….